135 Years of Rich Hill United Church
The name of Rich Hill was derived from a similar crossroads in County Armagh, Ireland. The original structure of Rich Hill Methodist Church was a wooden plank building built in 1859 and located at the cemetery south of the church. The congregation in 1887 belonged to a circuit including Beeton, Tottenham, Rich Hill, Reaney's and Tecumseth.
In 1888, the brick church was built on land given by Robert Fleming and his mother. The plans for the church were drawn by John Merrick Sr. of Newton Robinson and the building constructed by Johnny McCabe and James Stephenson of Tottenham.

Tottenham and Rich Hill became a two-point charge in 1900. Church Union took place in 1925 with Rich Hill becoming a United Church.

A windstorm destroyed the church steeple in 1928 and the tower was covered with an extension of the church roof. The vestibule was added to the church in 1980 in order to enclose the exterior steps. Additional land was purchased in 1992 to create additional parking and room for a well. New storage cupboards were added in 1994, and a sound system and stove were added in 1996.
In 2001, the top of the tower and the steeple were replaced as a millennium project, and the church was designated a historic building under the Ontario Heritage Act.

Over the years, Rich Hill has held many Strawberry Suppers, church dinners, bake sales, social events, weddings and funerals. It has been a second home to families in the area who all contributed time and gifts in service of the church. These gifts include the Organ and Piano, Communion Table and Silver plates, the Lecturn, Stain Glass Windows, the various Crosses, Candles, Hymn Books, Cups, Dishes, Quilts and many more lovely items that can be seen around the church.
Rich Hill enjoyed a thriving Sunday School and hosted the Vacation Bible School for many years, most recently led by Ashley Abrams and Janet Hastings. The church also hosted the Explorers and Messengers groups, led by Ethel Hitchman. In 1998, the Explorers made a replica of the church and entered it on the Schomberg Fair parade. It won first place! It now sits in the Rich Hill Cemetery and is fondly known as 'the little church'.
The Rich Hill Choir and Music Directors graced the congregation with their lovely music over the years, led by Grace Tomlinson, Ailene Mabee, and Marianne Kennedy in recent years.
The United Church Women have always been active at Rich Hill helping with church dinners, craft and bake sales, Victorian Teas, Sip n' Sings, Pysanky Egg Painting, fundraising for community programs and always lending a hand for the Vacation Bible School.
Thank you to each and every person, past and present, who have made Rich Hill United Church a beautiful place to worship, celebrate and see as many drive by. Using these words adapted from a quote by John Henry Newman:
"God has created this church to do some definite service. God has committed some work to this church which God has not committed to another. We have our mission – we may never know it in this life, but we shall be told it in the next. This church is a link in a chain, a bond of connection between persons. God has not created this church for nothing. It shall do good. It shall do God's work. It shall be an angel of peace, a preacher of truth in its own place. Therefore we will trust God."
God remains with us.
Though we let go of our cherished place of worship.
God remains with us.
Though we will sing new songs and worship in new ways. Though we will serve in different ways and pursue different causes.
God's love remains with us.
Thanks be to God.
Rich Hill United Church made the difficult decision to close the church early in 2023, and the congregation held it's closing service on June 25, 2023.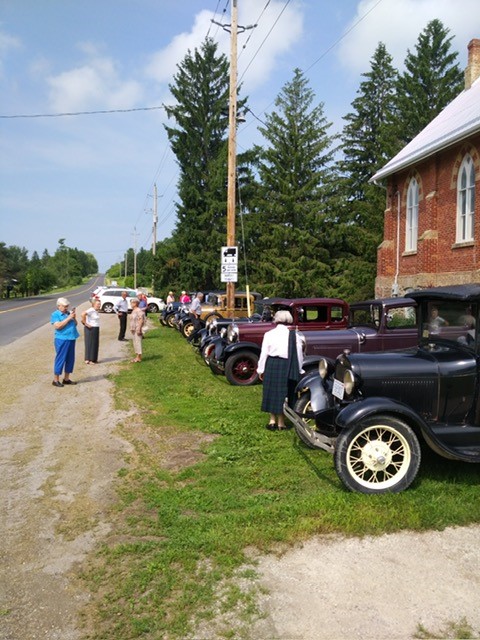 Roll of Ministers – 1888 to 2023 (reverse chronological order)
Rev. Dyanne Marlok
Rev. LeeAnn McKenna (Supply)
Patti Rodgers, DLM
Rev. David Zub
Rev. Maurice Francis
Rev. Lenore Beecham (Interim)
Janice Aylward (Student)
Rev. John Lawson
David Scott (Trained Lay Supply)
Rev. Jacqueline Mills
Rev. Fred Jewel
Rev. Alfred Dumont
Rev. Paul Lee
Rev. George Saunders
Rev. O.H. Holmes
Rev. Fred Laird
Rev. W.J. Burton
Rev. G.W. Gardner
Rev. James Dorian
Rev. G.H. Purchase
Rev. S.B. Butt
Rev. Levi Halfyard
Rev. W.S. Beveridge
Rev. J.W. Fox
Rev. A.P. Stanley
Rev. James H. Dudgeon
Rev. C.A Belfry
Rev. John J. Ferguson
Rev. A.F. McKenzie
Rev. S.L. Horton
Rev. F. L Brown
Rev. J. Talbut
Rev. Isaac Couch
Rev. Richard Large
Rev. T. Keam
Rev. Herman Moore
Rev. Alexander Richards
Rev. Thomas Dunlop
Rev. J. Lavery
Rev. William A Rodwell